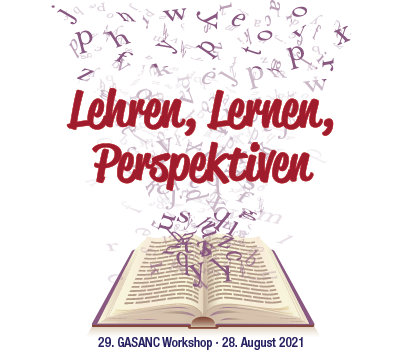 to the 29th annual GASANC Workshop!
This year's Workshop will take place on Saturday, August 28th from 9:00-16:00 PST online via Zoom.
Our workshop is for teachers of German at all levels at all types of schools and institutions, geared primarily towards teachers working at Saturday schools or part time language programs. All are welcome to attend.
This year's workshop has been organized with the Motto, "Lernen Lehren, Perspektiven". Our goal is to provide you with inspiration, information and tools you can put to use right away in your classroom.
This year's line up offers a wide variety of sessions from presenters throughout the United States and Germany. The workshop will be held in German and most of our sessions are offered in German for the German language classroom, but some sessions are language overarching and will be offered in English.
New this year is our "Diskussionsforum" track, where all of you, who are experts in your own right, can come together to share your best practices in a moderated space and perhaps find new ways to approach familiar topics.
We look forward to welcoming each and everyone of you from near and far to prepare for an exciting school year with new vigor and fresh ideas to hit the ground running!
Registration for the 29th Annual GASANC Workshop is closed.
Thank you to the generous supporters of our GASANC Workshop, who help make the Workshop possible: